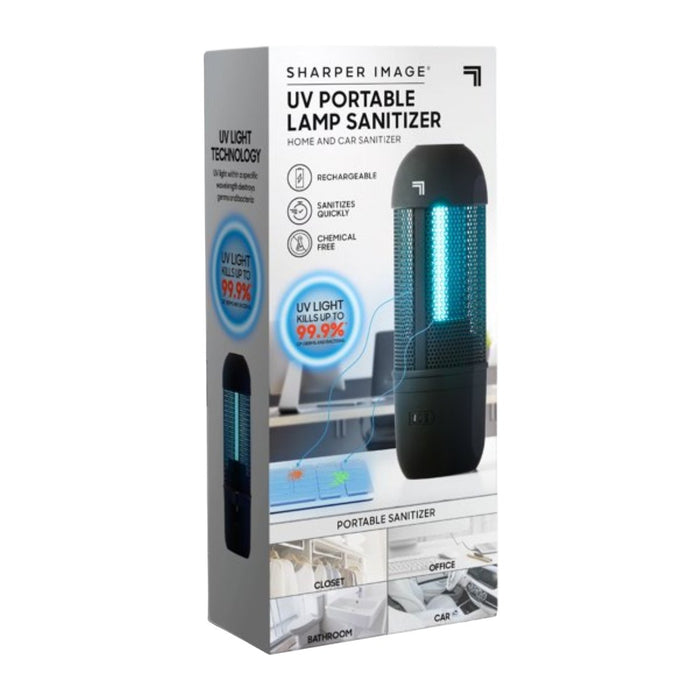 Sharper Image Sanitizing UV Travel Lamp
Brand:
 Sharper Image
Type:
Portable Air Purifier
SKU:
 UPC: 843479137330
List Quantity:
 107
About:
SANITIZE EFFECTIVELY: The Sharper Image UV Lamp works to kill 99.9% of germs. It destroys their DNA structure and their ability to reproduce before destroying the germ itself. There are no chemicals involved or damage to any surfaces/materials
COMPACT SIZE: Carry your UV lamp anywhere you go! No more using dirty objects around your home or workspace. The rechargeable lamp can be used 6 times between chargers and will efficiently kill germs and bacteria on the surfaces you touch everyday
STERILIZE YOU ESSENTIALS: Do you know the dirtiest items in the house are the ones you probable touch the most? Use this to efficiently clean and sterilize you phone, keyboard, toothbrush, and other objects.
RECHARGEABLE: Use for 10 minutes at a time to effectively kill 99.9% of germs and bacteria in the surrounding area. Use up to 6 times between charging sessions.
GREAT GIFT FOR ANYONE: We all have cell phones and objects we touch every day that are filthy. Millions of germs are crawling on your keyboard and phone screen right now! Give the gift of sanitization and make their world a little bit cleaner.