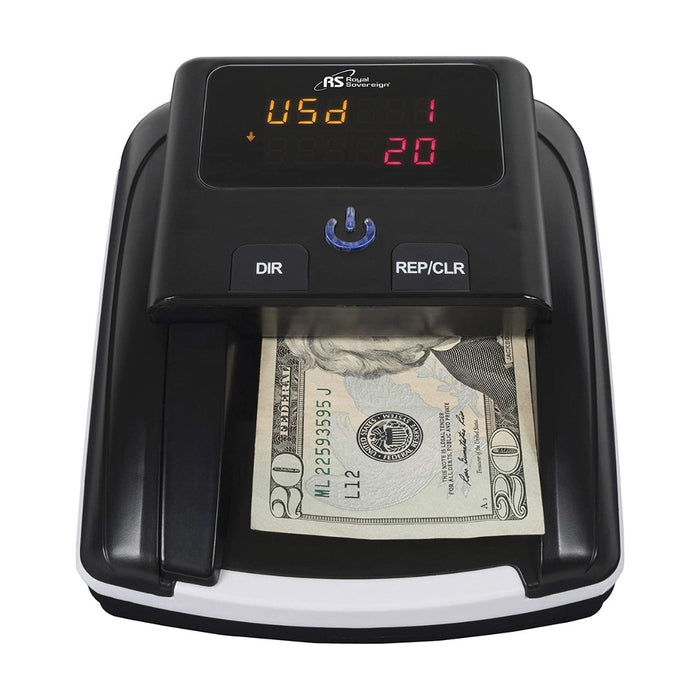 Royal Sovereign Quick Scan Counterfeit Bill Detector RCD-3120
Brand: Royal Sovereign
Type: Quick Scan Counterfeit Bill Detector RCD-3120
SKU: 900117
UPC: 849023030294
List Quantity: 2
About: The Royal Sovereign RCD-3120 is Quick Scan Counterfeit Detector that quickly and easily verifies U.S. currency. No longer will you have to keep your customers waiting in line while you or your employees manually check for counterfeit bills. The Royal Sovereign Quick Scan provides accurate counterfeit readings in just half a second and works with 5s, 10s, 20s, 50s, and 100-dollar bills. The Quick Scan runs a rigorous multi level counterfeit detection process that includes Infrared detection, Magnetic ink detection, Ultraviolet detection, Imaging verification, Paper Quality verification and Size and Thickness verification. Equipped with Value-Add, this machine keeps a record of the total value and total bill count by denomination. The compact design allows the detector to fit almost anywhere. Ideal for retail and service businesses, restaurants, offices, and much more! The RCD-3120 can provide multiple time saving and security benefits for your business.

Instant Verfication: Instant results at a fast scan speed of half a second
6-Phase Maximum Security Protection: Ultraviolet, Magnetic Ink, Infrared, Imaging, Paper Quality, and Size and Thickness Verification Methods.
4-Way Orientation Acceptance: Allows the user the convenience to insert the notes in any direction
Value-Add: Detector keeps a record of the total value and total bill count by denomination
Compact and Portable: Compact design allows the detector to fit almost anywhere