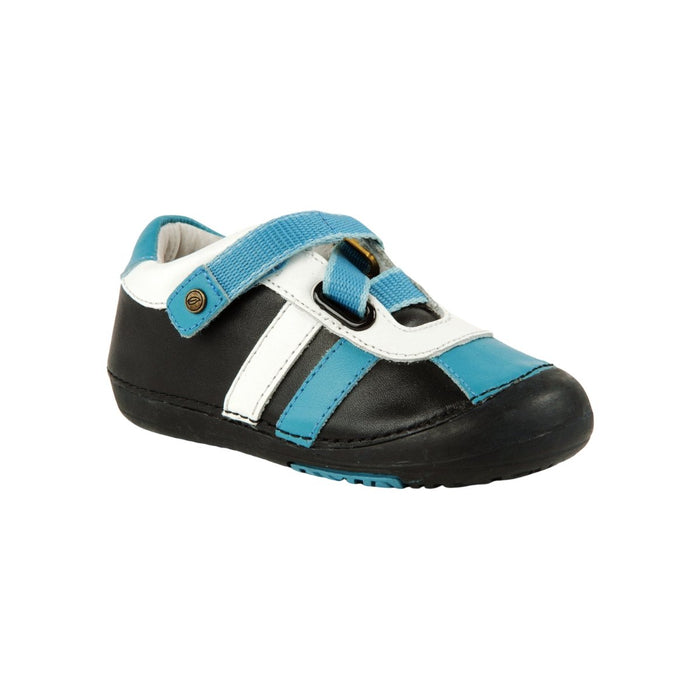 Momo Baby Boys Z-Strap Black/Blue Leather Shoe
Brand: Momo Baby
Type: Boys Z-Strap Black/Blue Leather Shoe
SKU: 300149
UPC: 4B6-436011-BBL
List Quantity: 11
About: 
Accepted by the American Podiatric Medical Association (APMA).
Rubber soles with deep tread pattern increases slip-resistance.
Flexibility of the sole enables a better natural shift of weight from the back to front of the shoe when walking.
Fan-shaped toe box resembles the shape of child's foot, allowing the big and small toe to move freely.
Adjustable straps with Velcro makes it simple to get on and off.
Imported from USA.
The human foot is one of the most complicated parts of our body. We have carefully designed our shoes to protect your child's feet, while incorporating many beneficial attributes to promote quality foot quality. Momo Baby Leather Shoes with Flexible Rubber Sole feature high quality genuine leather with fashionable looks and excellent durability. Leather upper/leather lining/rubber sole. Genuine leather lining enhances breathability and removable, anti-bacterial, breathable insoles keep feet comfy and dry. Momo Baby's entire line of footwear has been awarded the American Podiatric Medical Association's prestigious Seal of Acceptance which recognizes products which have been found beneficial and significant value to foot health.