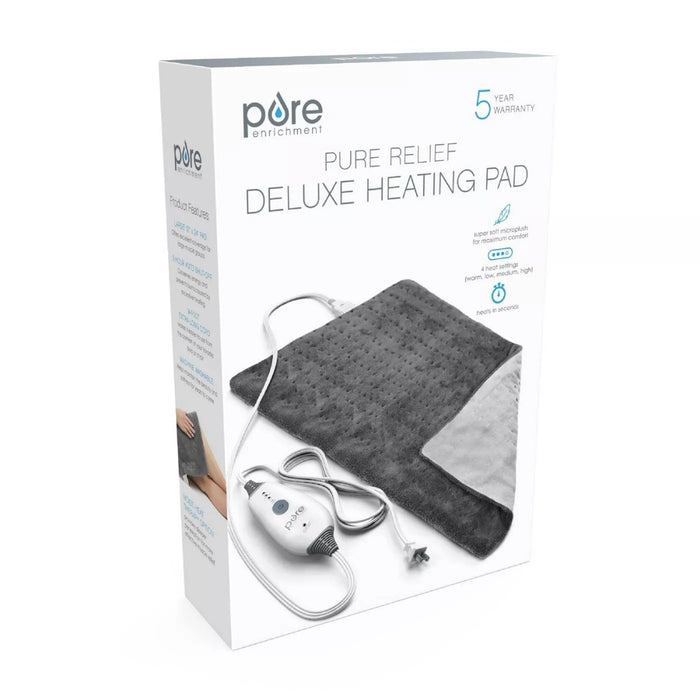 PureRelief Deluxe Gray 12x24 in. Heating Pad
Brand: PureRelief
Type: Deluxe Gray Heating Pad
SKU: 100136
UPC: 817387020596
List Quantity: 8
About: The PureRelief Deluxe Heating Pad from Pure Enrichment offers soothing comfort to the sore muscles in your back, legs, arms and more. Made with the softest Microplush fibers, this deluxe heating pad is an ultra-cozy heat therapy solution for arthritic pain, muscle ache and stiff joints. Use for 20 minutes daily (or as recommended by your doctor) to increase blood flow and reduce pain and muscle spasms. Product features large 12" x 24" pad offers excellent coverage for large muscle groups. The LED controller adjusts heat easily with 4 temperate setting to accommodate your comfort level. The moist heat therapy option provides a deeper penetration for more effective muscle relief. The 2-hour auto shut-off conserves energy and prevents burns caused by excessive heating. The 9 food extra-long cord makes it easier to use from the comfort of your bed or your favorite chair. The machine washable feature helps maintain the beauty and softness for years to come.