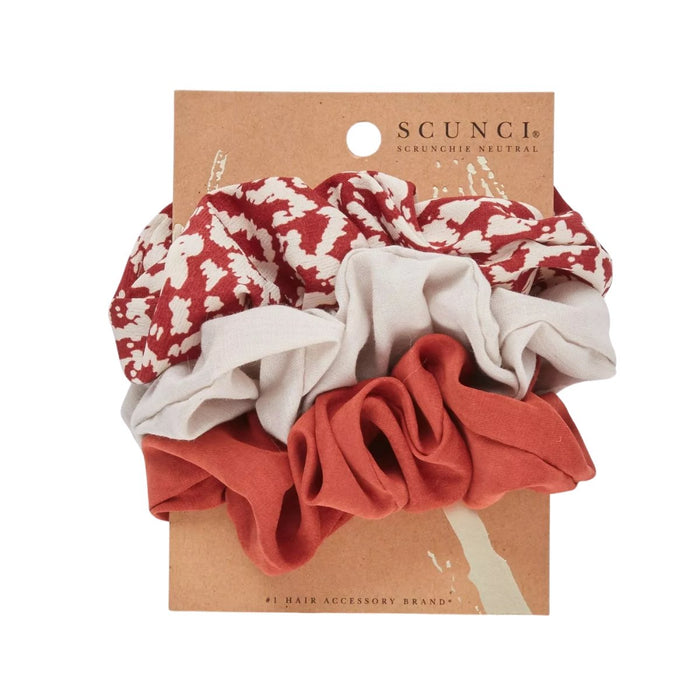 Scunci Scrunchies Red Dot Print/Solid Gray/Solid Red 3-Pack
Brand: Scunci
Type: Scrunchies Red Dot Print/Solid Gray/Solid Red 3-Pack
SKU: 300276
UPC: 043194340910
List Quantity: 2
About: This gorgeous scrunchie hair tie trio comes in an array of rich hues that perk up your 'do. Three hair ties—in luxe copper and ivory satin, cozy suede copper, and silky gray satin—dress up every look, from sassy high ponies to respectably tidy topknots. Wear your hair scrunchies one at a time or mix and match them for a hairstyle that makes a bold style statement. Made from the softest satin and suede fabrics designed to protect hair from pulls and damage, the elastic core is strong enough to hold your hair firmly, so that your style stays put throughout the day.
About scünci hair accessories: When it comes to keeping your look on trend, scünci has you covered with today's hottest hair accessories, including stylish headbands, super-comfy scrunchies, glitzy bobby pins, glam barrettes, and much more. From work to workouts to nights out, scünci lets you express your personal style and gets you ready for any occasion. Take control of your hair and look amazing whatever you do and wherever you go. Whether bling is your thing or casual is your calling, with scünci, ü got this.