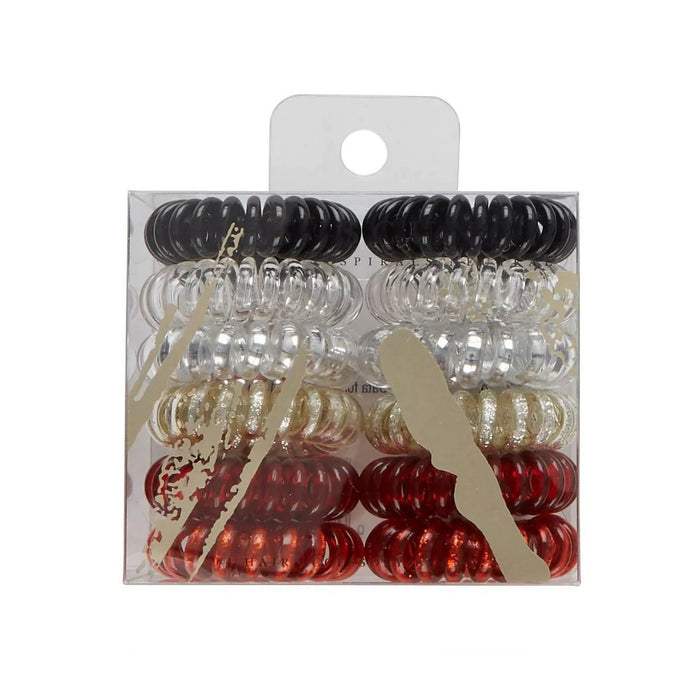 Scunci Small Black/Clear/Red/Glitter Spirals 12-Pack
Brand: Scunci
Type: Small Black/Clear/Red/Glitter Spirals 12-Pack
SKU: 300281
UPC: 043194341160
List Quantity: 11
About: Transition from a ponytail to flowing tresses without leaving a dent in your 'do! Old school hair ties are notorious for creasing hair, leaving you committed to keeping a ponytail or topknot once you have put it up. But comfortable and secure hair spiral twisters are forgiving and never make a mark yet are strong enough to hold your hair up all day without slipping or causing damage. This 12-pack of spiral ties has a mix of precious metal hues, as well as black and clear, with metallic and glitter textures.
About scünci hair accessories: When it comes to keeping your look on trend, scünci has you covered with today's hottest hair accessories, including stylish headbands, super-comfy scrunchies, glitzy bobby pins, glam barrettes, and much more. From work to workouts to nights out, scünci lets you express your personal style and gets you ready for any occasion. Take control of your hair and look amazing whatever you do and wherever you go. Whether bling is your thing or casual is your calling, with scünci, ü got this.