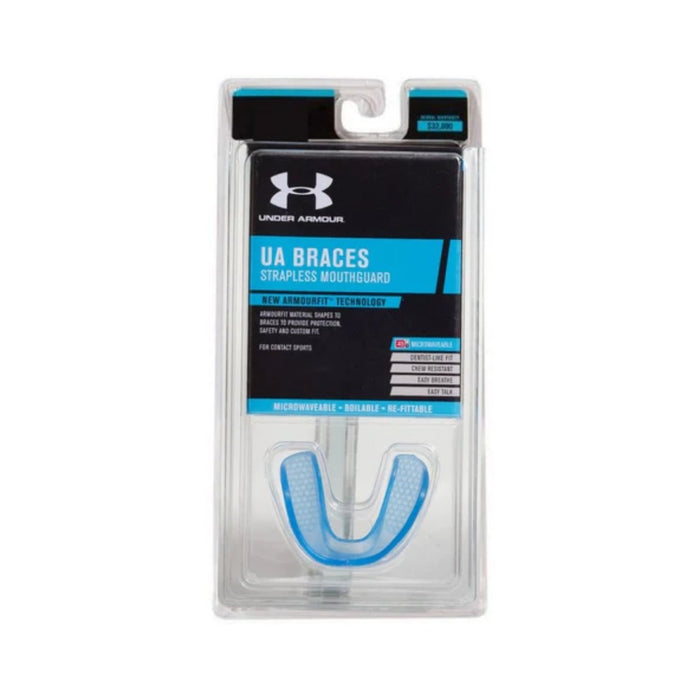 Under Armour Mouthguard for Braces Youth
Brand: 
Under Armour
Type:
YOUTH Mouthguard for Braces
SKU:
 500109
UPC:
 816161010204, 816161015643, 816161010754, 816161010747
List Quantity:
894
About: 
The UA Braces is an orthodontic mouthguard specially designed by a dentist. Under Armour ArmourFit material molds to teeth for a tight, comfortable fit. The UA Braces Mouth Guard is microwaveable, boilable and re-fittable. The UA Braces provides a dentist-like fit, is chew resistant and promotes an easy to breath and easy to talk feel. Great for all contact sports. Permanently strapped mouthguard.
Permanently Strapped Mouthguard
UA Braces is an orthodontic mouthguard specially designed by a dentist
Microwave for 45 seconds or boil for 30 seconds then bite for custom like fit
Provides protection to the teeth, jaws and gums
New Armourfit Technology molds to teeth for a tight, comfortable and a custom
Chew resistant material is hydrophobic so it will not absorb water and will not deteriorate
Easy breathe, easy talk- $32,000 Dental warranty
For all contact sports- Latex Free
Meets NFHS Rules
Generally, size Youth (age 8-11) and size Adult (age 12+)
Made in USA Under Armour UA ArmourFit Braces Mouthguard with Strap. Color: Pink. R-1-1252