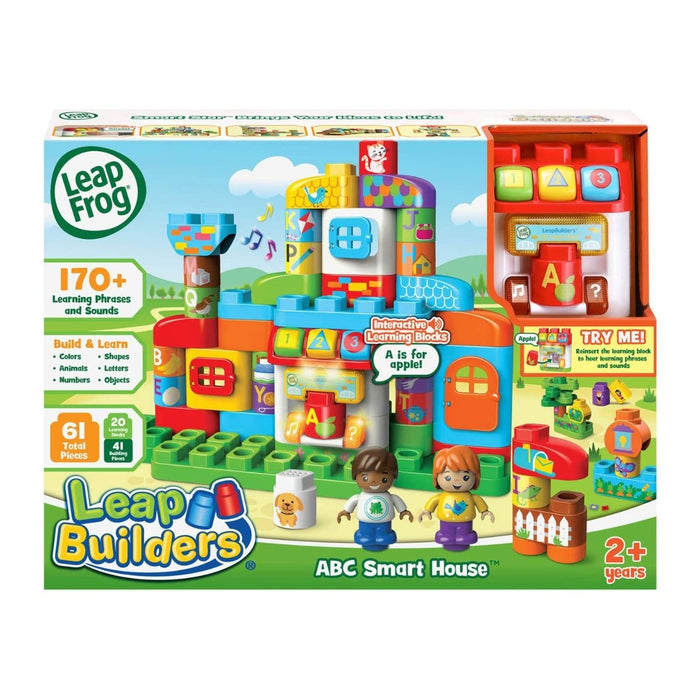 LeapFrog LeapBuilders ABC Smart House 61-Piece Set
Brand: LeapFrog
Type: LeapBuilders ABC Smart House 61-Piece Set
SKU: 1100131
UPC: 3417766049001
List Quantity: 1
About: Welcome home to the LeapBuilders ABC Smart House! Build, create and learn with this interactive 61-piece house-themed block set. Kids can build using the easy-to-hold building blocks and double-sided learning blocks that feature letters and objects. Insert the 20 doubled-sided learning blocks into the interactive Smart Star cube and it will respond with educational songs and encouraging phrases about letters and numbers that enhance building play with learning content. Build on the Smart Star cube to trigger sounds. Press the question button on the Smart Star cube to hear requests to find specific blocks in the set. The music button plays three learning songs and three melodies. Use the learning blocks from other LeapBuilders sets in the interactive cube to unlock additional content responses. Get building with smart blocks for smart kids. Intended for ages 2+ years. Requires two AAA batteries. Batteries included for demo purposes only, new batteries recommended for regular use.